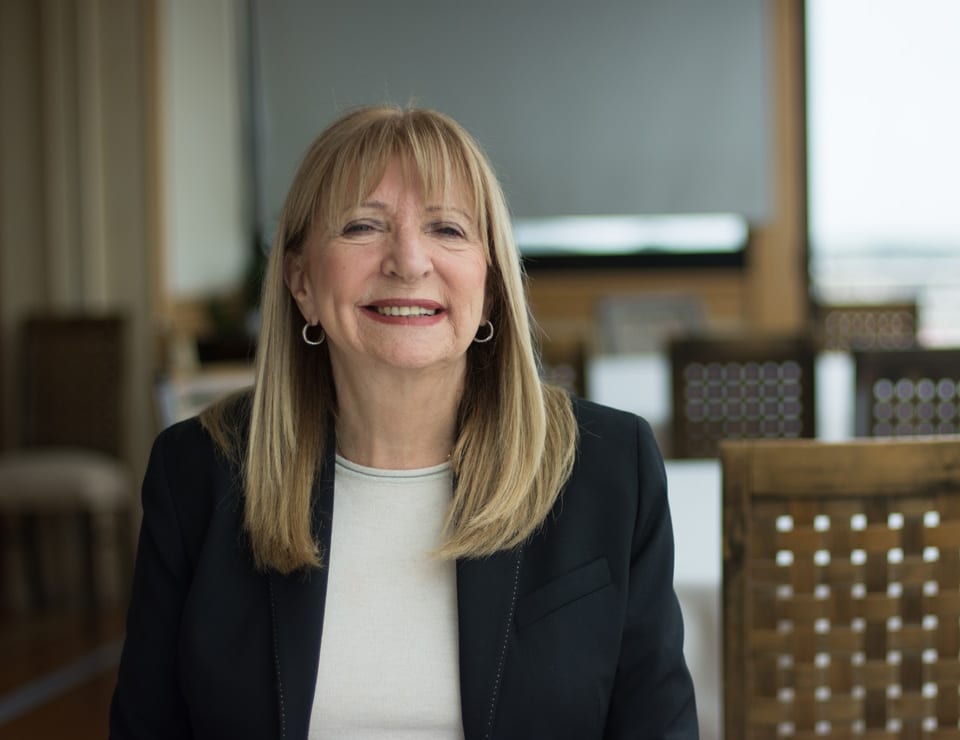 "It's rewarding for me to see how students change as they go through the program, how they get more involved in the professional aspects of teaching, even presenting at conferences."
For thousands of teachers in the country, Dr. Christine Irvine-Niakaris is one of the most familiar faces of English-language teaching in Greece. Many know her from one of the numerous training workshops and presentations the she has led for language teachers, including those organized by the Hellenic Ministry of Education and Religious Affairs. Others know her from the series of course books and exam preparation material she authored, which were widely used in language schools throughout Greece.
A passionate advocate of in-service training, Dr. Christine Irvine Niakaris has been committed to raising the professional standards of English-language teaching in Greece for decades, long before she joined the faculty at Hellenic American University in 2011 after earning her Ed.D. from the University of Bristol, UK. In the mid-90s, for example, she spearheaded the creation of a diploma program for novice teachers of English as a Foreign Language, a joint program between St. Michael's College and the Hellenic American Union.
Given this long and diverse experience in the field, Christine has observed first-hand how the profession of English-language teaching has changed over the years. She notes that "there is broad recognition in the private sector of the importance of formal training of language teachers, and a lot of schools today understand how their school and students benefit from a professionally educated teaching staff."
This commitment to creating opportunities for professional development continues to inform her work as Coordinator of the M.A. in Applied Linguistics-TESOL (Christine is also Director of the Division of the Arts & Sciences at the University). The multidisciplinary MAAL program combines coursework in applied linguistics and TESOL with a supervised teaching practicum in a real classroom setting. It gives students the chance to explore the relationship between language, culture and society to solve real-world problems in language teaching, language testing and intercultural communication.
Research, too, figures prominently in the program, and students are encouraged to pursue their own research interests. "It's rewarding for me to see how students change as they go through the program," she says, "how they get more involved in the professional aspects of teaching, even presenting at conferences."
The program pays particular attention to fostering a critical awareness of one's own teaching practice. "When you start teaching," Christine explains, "you think it's a matter of rules. If you do this and do that, you'll be a better teacher. But it's not that simple. Graduate studies help you better reflect on your teaching, and this makes a big difference." As Christine notes, however, the MAAL program opens up career paths that extend beyond teaching per se. "I run into graduates of the MAAL program who are doing all sorts of things in the profession. They've moved up and can now offer something in addition to their teaching, like developing syllabi and evaluating course material."
Christine's interest in how teachers teach, how they think of themselves and how they develop also drives her own research, including the work she's done on teacher cognition, language teacher education and language testing. Her research projects have included work for EU-funded programs, including one that evaluated the effectiveness of in-service teacher training programs, and more recently, the framework she developed for competency-based assessment of student learning—an approach the University is considering extending to other degree programs.