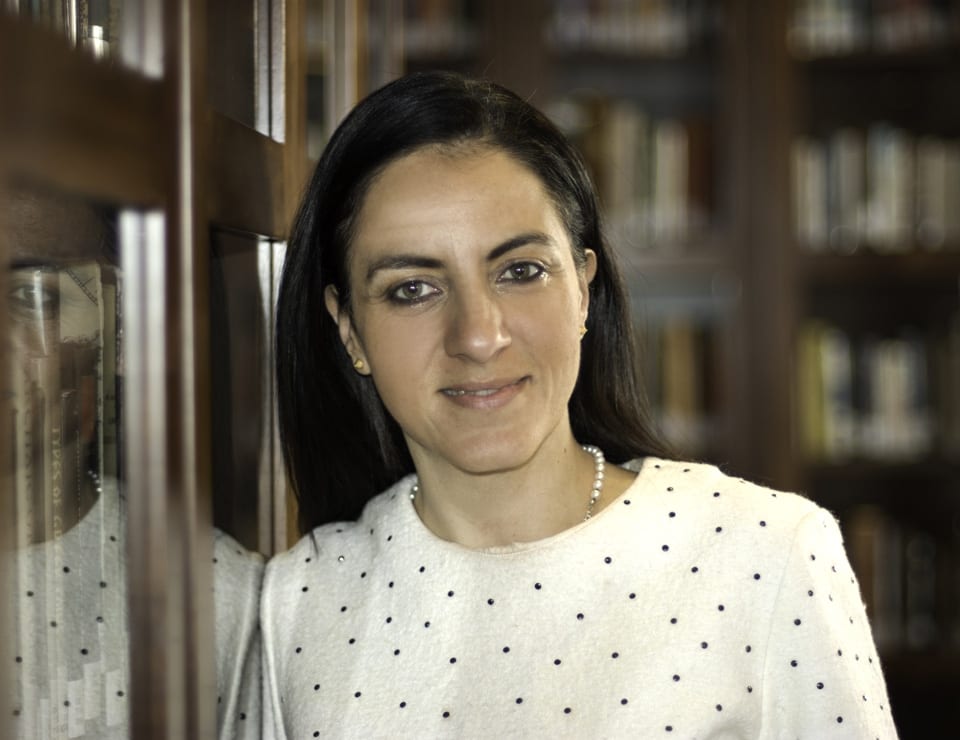 "I'm struck by how quickly my students respond to the American way of education. It feels to them the natural way to learn. It's as if it's what they always wanted to have—but didn't know it existed."
How is populist communication played out in news discourse? Where do we see ideology at work when children's books are translated? What choices does a newspaper make when it translates a news item and how does this create a story of its own? How can we better train people to be translators?
These are just a few of the research questions that Dr. Themis Kaniklidou, Director of Academics and Associate Director of the Ph.D. in Language and Communication, has investigated in recent years.
The breadth and diversity of Themis's research interests reveals the restless Intellectual curiosity of an engaged researcher. But it also reflects the richly interdisciplinary nature of translation—and the Master in Translation program itself, in which she teaches and which draws upon fields such as discourse analysis, linguistics, terminography and cross-cultural communications.
Though her administrative work, research and teaching leave her little free time, Themis maintains her network of contacts in the translation profession in Greece, if only to keep abreast of developments in the local industry. It's a field she's seen change substantially in the last decade.
One major development, she notes, is the growing segmentation of the market, with more and more translators specializing in a field of expertise, such as medical or legal translation. Another has been the emergence of new fields such as localizing video games and subtitling works for streaming services.
A third is the immense progress that's been made in machine translation. In her view, technological progress in the field, while disruptive, will bring opportunities as well for translators. "The advances in artificial intelligence," she notes, "will repurpose the work of professionals in the field, with translators doing a lot more post-translation editing," something she notes that students in the MAT program already do.
Under her leadership, the Master in Translation program is responding to all three changes. "We're up-to-date with the technology that the market demands from our graduates," she says, and notes the program's array of courses in specialization translation, translation technology and audiovisual translation. "We're doing a very good job for the lucky few students who decide to do the program."
Themis also coordinates Hellenic American College's participation in a major ongoing project of the European Parliament's Terminology Coordination Unit. Under her supervision, students from the MAT have the chance to contribute to enriching the biggest terminology database in the world (the IATE).
It was her idea to get the College involved in the project in the first place, a decision that reflects her commitment to fostering her students' professional development—and enhancing their career prospects. It also reflects her own research interest in translator training. (She served as co-investigator in another EU project on optimizing professional translation training). "We give students opportunities early on in the program to connect with the profession," she says.
For Themis, who earned her Ph.D. from the National Kapodistrian University of Athens, this focus on participatory learning is just one part of American higher education. It's an approach she is well-positioned to assess, given her teaching experience in the United States—she was a visiting faculty member last year at the University of North Carolina at Charlotte, and a guest lecturer at Rollins College the year earlier.
"Our teaching style here at the College is perhaps more direct and demands more participation than what many of our Greek students are used to. And we place a lot more emphasis on getting students to be able to reflect critically on their work—which is crucial for a translator."
Themis says she's struck by how quickly her students respond to the American way of education. "It feels to them the natural way to learn. It's as if it's what they always wanted to have—but didn't know it existed. "