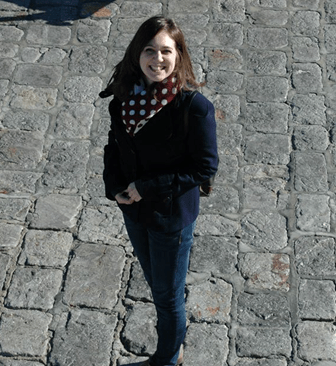 Our English Language and Literature student, Elena Cami, has earned an internship with Libra Group for winter 2016
"Living in a country that has been facing years of deep recession and high levels of unemployment, especially among the youth, led me to seek out ways to improve my future career prospects. I was more than lucky to have had the chance to apply for an internship abroad, and most certainly one that is paid and offers professional development opportunities.
The application process was quite demanding and competitive as students apply from all over the world. Fortunately, I had the Career Development Office as a source of support, advice and feedback on key difficulties, such as documentation, as well as more minor difficulties I faced, such as suggestions on appropriate outfits for an interview. The idea of being an intern at a company as great as Libra as well as being able to travel, live and work abroad gave me all the strength and determination I needed to believe in myself throughout the application process.
Consequently, I say with full conviction that I was as happy as I could possibly be when the Libra Education Programs team called me to announce the good news. Being accepted into the Libra Internship Program is not just an internship position; it is also an opportunity to meet people, share experiences and learn from mentors in a professional environment. Mostly, though, it is the hope brought about by this opportunity, the pride from my family and friends, the acknowledgment from my university as well as the proof that we can accomplish any goal we set our minds to."
Elena Cami, BAELL student at the Hellenic American University
The Libra Internship Program is a very good example of how multinational companies with established education programs offer young people unique internship opportunities. The Libra internship program takes in over 100 interns every year for its Winter and Summer internship cohorts. Selected students may be placed with the Libra Group or one of its businesses in key international locations including New York, Miami, London, Athens, and Buenos Aires. Roles are available in areas such as communications, marketing, administration, finance, IT, human resources and more. The Libra Group is a privately-owned international business group that controls 30 subsidiaries active across six continents. It is primarily focused on five core sectors: shipping, aviation, real estate, hospitality and energy. Outside those areas there are selected 'diversified investments'.
Hellenic American University helps its students and alumni identify internship opportunities in Greece and abroad, and assists them during the application process.